Call Driving Miss Daisy and ride with a friend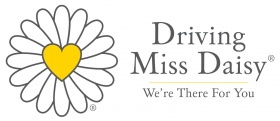 Driving Miss Daisy
Call Driving Miss Daisy and ride with a friend
Live life to the full with our safe, friendly, and reliable community companion service.
We provide companion driving services for the elderly, children, disabled and for anyone who is unable to drive from A to B. We offer you independence and peace of mind, enabling you to get out, have fun, and add some zing into your everyday living. Our special service also provides assistance in and out of the car, going to appointments, shopping and company on outings. Special needs are catered for including assistance with a walker or wheelchair.
Find out if Driving Miss Daisy is near you – please call us on 0800 948 432, we look forward to hearing from you.
All of our Daisies are ACC Registered Vendors, and we accept Total Mobility Vouchers in most areas of New Zealand.
Regional Contacts:
Northland
Driving Miss Daisy - Whangarei East
09 430 8091
Auckland
Driving Miss Daisy - Auckland Central
09 360 0425
Driving Miss Daisy - Blockhouse Bay
09 627 0481
Driving Miss Daisy - Botany
09 534 7712
Driving Miss Daisy - Devonport/Northcote
09 534 7712
Driving Miss Daisy - Eastern Bays
09 528 2044
Driving Miss Daisy - Epsom
09 626 0018
Driving Miss Daisy - Glenfield/Albany
09 442 4334
Driving Miss Daisy - Henderson
09 836 5713
Driving Miss Daisy - Hibiscus Coast
09 428 4490
Driving Miss Daisy - Hobsonville
09 412 5332
Driving Miss Daisy - Howick
09 534 6380
Driving Miss Daisy - Manukau
09 263 0912
Driving Miss Daisy - Milford
09 551 3050
Driving Miss Daisy - Northern Bays
09 473 8186
Driving Miss Daisy - One Tree Hill
09 629 5999
Driving Miss Daisy - Pakuranga
09 537 1452
Driving Miss Daisy - Papakura
09 266 2709
Driving Miss Daisy - Remuera
09 520 3405
Driving Miss Daisy - Titirangi
09 629 5999
Waikato
Driving Miss Daisy - Cambridge/Te Awamutu
07 823 1998
Driving Miss Daisy - Hamilton East
07 856 8865
Driving Miss Daisy - Hamilton West
07 856 0112
Hawkes Bay
Driving Miss Daisy - Hastings
06 878 5029
Driving Miss Daisy - Havelock North
06 877 8476
Driving Miss Daisy - Napier/Taradale
06 844 0620
Taranaki
Driving Miss Daisy - New Plymouth
06 215 4282
Manawatu/Wanganui
Driving Miss Daisy - Palmerston North/Fielding
06 355 0470
Driving Miss Daisy - Whanganui
06 347 9100
Wairarapa/Kapiti/Wellington
Driving Miss Daisy - Kapiti
04 298 3689
Driving Miss Daisy - Lower Hutt
04 568 2254
Driving Miss Daisy - Mana-Porirua
04 235 7985
Driving Miss Daisy - Upper Hutt
04 970 6636
Driving Miss Daisy - Waikanae North
04 293 3042
Driving Miss Daisy - Wairarapa
06 377 0232
Driving Miss Daisy - Wellington City/East
04 384 8344
Driving Miss Daisy - Wellington North
04 478 5535
Nelson/Marlborough
Driving Miss Daisy - Marlborough
03 579 3162
Driving Miss Daisy - Nelson
03 547 2133
Canterbury
Driving Miss Daisy - Ashburton
03 307 7237
Driving Miss Daisy - Cashmere
03 423 9778
Driving Miss Daisy - North Canterbury
03 312 2936
Driving Miss Daisy - Redwood/Harewood
03 352 4596

Driving Miss Daisy - Riccarton
03 347 1009
Driving Miss Daisy - Selwyn
03 347 1009
Driving Miss Daisy - St Albans
03 423 9831
Driving Miss Daisy - Timaru
03 683 1073

Driving Miss Daisy - Wigram
03 325 7153
Otago
Driving Miss Daisy - Dunedin North
03 467 5017
Driving Miss Daisy - Dunedin South
03 486 2033
Driving Miss Daisy - Oamaru
03 434 8421
Southland
Driving Miss Daisy - Invercargill
03 216 7763